Ceradan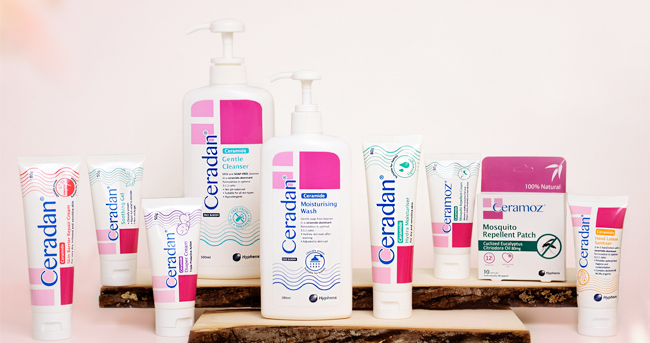 Atopic dermatitis (AD) or commonly known as eczema, is a chronic inflammatory skin condition that affects people of all ages. Ceramide is one of the most important lipids forming the skin barrier. Research has demonstrated that ceramide in the skin is reduced by 30-50% in Atopic Dermatitis.
The Ceradan range is scientifically designed with the understanding of the physiology of the skin.  Ceradan Cream is ceramide dominant thus helps replenish the lacking ceramide in the skin. With an optimal physiological lipids ratio of 3:1:1 (ceramide, cholesterol and free fatty acids respectively), there is also optimal skin barrier repair.
Ceradan Regimen, which consists of Ceradan Cream and Ceradan Wash, is clinically-tested in young children (6 month – 6 year old). In a study conducted in the major children hospital and dermatology hospital in Singapore, the key benefits discovered are shown below.
Prevents about

 

1 in 2

 

occurrences of dry & irritated skin
Continuous use improves skin condition
Nearly

 

9 in 10

 

patients or parents would like to continue using the regimen
For more details of the clinical study, please view the link below.
https://link.springer.com/article/10.1007/s13555-017-0186-1
The Ceradan Range now consists of products for:
Atopic Dermatitis
Infant Care
Mosquito Repellent
Reference:
Koh MJ et al. Comparison of the Simple Patient-Centric Atopic Dermatitis Scoring System PEST with SCORAD in Young Children Using a Ceramide Dominant Therapeutic Moisturizer. Dermatol Ther (Heidelb). 2017 Sep;7(3):383-393.